OUTDOOR RECREATION
A very natural look every day regardless of weather and use.
Surface America's RecSport Turf uses the highest grade synthetic turf. It features a blend of green upright fibers and olive thatch polyethylene fibers that are very soft yet ultra-durable. The turf roll is adhered to a resilient rubber basemat over asphalt or concrete. RecSport Turf provides great footing and shock absorption for high-traffic, recreation, and sport outdoor areas.
The extremely durable turf maintains the look of perfectly-groomed grass without any maintenance. Rainwater flows horizontally or through or across the turf surface, depending on drainage requirements.
ADA-compliant
Wheelchairs and walking aids can negotiate the turf surface without difficulty, thus conforming to the requirements of the Americans with Disabilities Act and ASTM F-1951 Determination of Surface Accessibility.
Product Data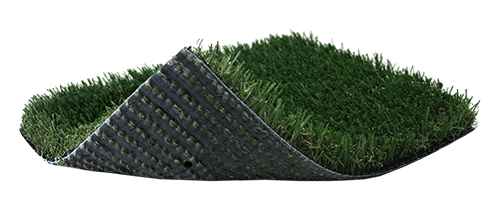 Synthetic turf fully adhered over a poured basemat
Turf: Polyethylene fiber and polypropylene thatch tufted into a backing
Basemat: 100% post-consumer recycled SBR (Styrene Butadiene Rubber) and polyurethane
Typical fiber height is 1.25": Typical basemat thickness is 1.5"
15' wide turf roll by custom lengths
Standard color: forest green with olive thatch
Other colors: red, white, blue, yellow, black
Porous: primarily outdoor use (indoor use less typical)
Base Options: asphalt or concrete (typically thickness is 4"with recommended 2% slope)
Manufactured in – using recycled rubber from – the USA
ADA compliant per ASTM F-1951 for surface accessibility
Colors
Color(s) may vary slightly from samples shown.
Thatch fiber is Forest/Olive.