OUTDOOR SURFACING
Surface America is an exclusive Miracle League Baseball partner
The Miracle League has chosen Surface America as its only poured-in-place baseball fields partner, and we are proud to have their trust in our services. Poured Evertop™ is a one-layer system made from pre- and post-industrial recycled materials. It is used for both infield and outfield because of its smooth, seamless surface – ideal for players and mobility equipment that is always on the move.
Industry-leading material and warranty
EverTop includes an industry-leading percentage of material in its surface to extend the life of your surface. And because materials are mixed and applied on site, you can easily achieve customization by adding color, logos and more. EverTop also comes with a 7-year warranty – the industry's longest and most comprehensive.
Product Data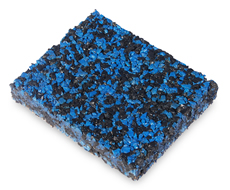 Wet poured, one-layer, troweled-on-site system: EPDM & aliphatic or aromatic urethane.
Field-applied in any configuration and dimensions
Wet poured, one layer, troweled on site
Typical thickness range is ½"
Many colors and color combinations
Porous for outdoor use
Base options: asphalt or concrete
Flush, feathered or typical edge detail
Recycled material components sourced from the U.S.
7-year warranty
All materials are made and assembled in the U.S.A.
Colors
Color(s) may vary slightly from samples shown.
Premium Colors
The National Miracle League Recommendations
80% Terra Cotta / 20% Black
For Baselines, Coaches' Boxes, Pitcher's Mound, Batter and Catcher Area
40% Bright Green / 40% Hunter Green / 20% Black
Outfield and Infield Grass Areas, Dugouts