FITNESS FLOORING
Surface America is a MASTER DEALER & INSTALLER of Ecore Athletic products for these Northeast states: NY, PA, NJ, CT, RI, MA, VT, NH, ME, MI, Northern OH.
More
Great fitness performance in a durable rubber flooring roll
Performance fitness flooring from Surface America is dual-layered, recycled rubber roll flooring that features a highly durable top "planting" surface laminated to a resilient "energy" layer. It offers great bounce-back and sound-deadening attributes, and a shock-absorbing surface that reduces fatigue and injuries.
The dual-layer rubber roll flooring has a 2.5 mm wear layer and is available in three underlayment thicknesses: 5 mm, 8 mm and 12 mm … giving you plenty of shock absorption. But for those people who want "Monster" absorption, you can add a 12 mm rubber roll under the Performance 2.5 mm top & 8 mm underlayment for a 22.5 mm flooring system. Rubber rolls are typically fully adhered over a concrete or wood subfloor. Its exacting manufacturing process provides a uniform surface with no low spots and seam gaps. From court surfaces and indoor tracks to multi-purpose rooms and aerobic centers, Performance delivers great, reliable performance.
Product Data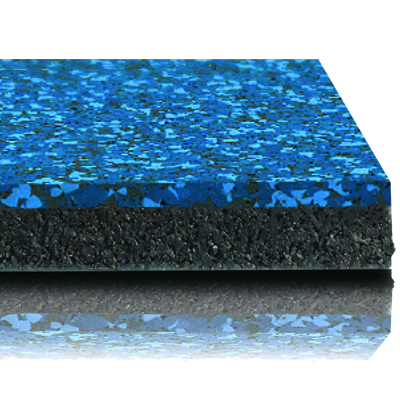 High-quality, post-consumer recycled rubber: a 5 mm, 8 mm or 12 mm underlayment fusion-bonded to a 2.5 mm wear-resistant and water-resistant reprocessed EPDM surface layer.
Dual-layer (surface laminated to a base mat) roll
2.5 mm EPDM wear layer over 5 mm, 8 mm or 12 mm resilient rubber underlayment
For a Monster system, add a 12 mm rubber roll under the Performance 2.5 mm top & 8 mm underlayment
Available in 48-in wide by custom length rolls
Excellent coefficient of friction
Spike-resistant
Provides excellent force reduction
Fade-resistant, wears well
Easy to clean: E-Cleaner, vacuum or broom and damp mop
Sound and shock absorbent
Slip resistant, wet or dry
DIN tested for ball bounce
All materials are made and assembled in the U.S.A.
Colors
Color(s) may vary slightly from samples shown.