AquaFlex® Rubber Waterplay Surfacing
Skid-resistant surfacing for outdoor & indoor water parks, splash pads, pool decks, and spa surrounds
AquaFlex®, a Landscape Structures product provided by Surface America, uses an advanced bond-in-place technology in which millions of pebbles bond together to create a durable, skid-resistant surface.
Won't break down in chlorinated water or when exposed to UV rays
Its unique chlorine resistance and long-term light stability keep your waterplay surface looking beautiful for years to come. Because it is mixed and applied on-site, you can easily have permanent patterns, borders, and logos incorporated into the surface.
Featuring superior heat flux for greater comfort
Surfaces get hot in direct sun. Tests prove that AquaFlex pebbles transfer heat to sensitive feet and skin at a minimum rate of 23% lower than alternative surfaces.
AquaFlex Porous allows water to penetrate through the surface to drain to allow for good traction.
AquaFlex Non-Porous is an ideal solution for outdoor waterplay areas in locations that require water to flow across the surface into a drainage system. It's often used for indoor applications. AquaFlex Non-Porous can be installed over a cushion layer, making it ideal for applications that require extra impact attenuation to minimize injuries from falls.
Product Data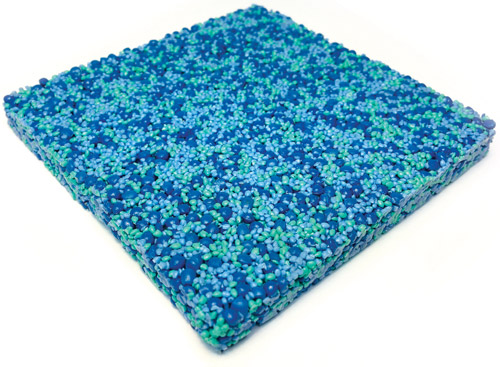 AquaFlex Porous is a blend of 100% large pebbles; AquaFlex Non-Porous (shown) is a 50%/50% blend by weight of large and small pebbles.
Aliphatic thermoplastic polyurethane pebbles with a 2-part aliphatic polyurethane binder
Chlorine resistant
UV light stable
Skid resistant per ASTM C1028-2007 Coefficient of Friction Test and meets OSHA recommendations for walking surfaces and accessible routes even when wet
Flame resistant per ASTM D2859-02
Variety of color blends see common blends or mix your own
Ability to incorporate patterns, borders and logos
Outdoor & indoor applications
Easy maintenance and cleaning with an all-purpose cleaner and a pressure washer on the fan setting (at least once per year is recommended)
AquaFlex Porous can be installed at a thickness of 3/8" over concrete or asphalt bases
AquaFlex Non-Porous can be installed at a thickness of 3/8" over concrete or asphalt bases and may include a 5/8" or greater SBR cushion layer
All materials are made and assembled in the U.S.A.
Colors
Color(s) may vary slightly from samples shown.
POROUS: Standard Color Blends
NON-POROUS: Standard Color Blends
Colors available upon request for custom blends
Small & Large Pebbles
Yellow – large pebbles only
Orange – large pebbles only
White – large pebbles only