PlayBound™ Poured-in-Place Playground Surfacing
A safe playground surface that's where you need it, when you need it.
PlayBound™ Poured-in-Place is a 2-layer system consisting of a basemat of 100% post-consumer recycled SBR (Styrene Butadiene Rubber) and polyurethane and a top surface consisting of recycled post-industrial EPDM (Ethylene Propylene Diene Monomer) rubber or TPV Granule and aromatic or aliphatic urethane binder. Surface America uses an industry-leading percentage of material in its top surface, significantly increasing the surface's expected life.
Easily customized to meet the safety, design and aesthetic requirements of any playground.
Because the rubber and urethane components are mixed and applied on site, having school colors, logos, games and/or geometric shapes permanently incorporated into the surface are practical options. Thicknesses can be modified on site to meet varying critical fall heights within playgrounds, and colors can be mixed and varied to complement playground equipment and playground settings.
Industry-leading warranty.
Our pour in place system performs so well we extended the warranty to 7 years. We call it Super-7. Our aliphatic system is so durable and problem-free we extended its warranty to 10 years! We call it Extreme-10.
Product Data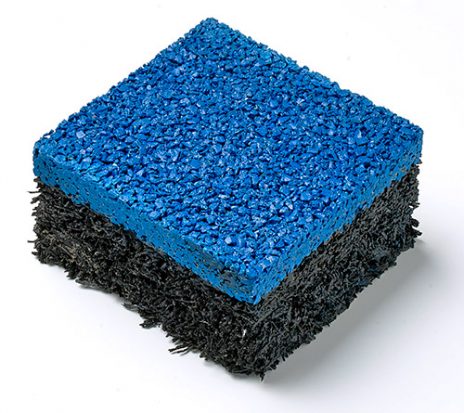 Field-applied in any configuration and dimensions
Wet poured, two layers, troweled on site
Base Layer: SBR (Styrene Butadiene Rubber) and polyurethane; Top Layer: EPDM (Ethylene Propylene Diene Monomer) rubber or TPV Granule and aromatic or aliphatic urethane binder
Typical thickness range is 1-3/4″ to 5-1/2″
Many colors and color combinations Mix Your Own Color Blends
Porous: primarily outdoor use (indoor use less typical)
Base Options: concrete, asphalt, crushed stone
IPEMA certified: meets critical fall heights up to 13 feet per ASTM F-1292
ADA compliant per ASTM F-1951 for playground surface accessibility
Recycled material components sourced from the USA
7-Year Warranty (Super-7 with aromatic urethane)
10-Year Warranty (Extreme-10 with aliphatic urethane)
All materials are made and assembled in the U.S.A.
Colors
Color(s) may vary slightly from samples shown.
Mix Your Own Color Blends | View/Download Colors PDF
Premium Colors
Rubber Colors: Any of these colors can be mixed in combination with another color or mixture of colors to achieve a blended, speckled look. A percentage of black mixed with a color or multiple colors camouflages dirt and reduces the price. All other factors being equal, the higher the percentage of black in the top surface mix, the lower the price.
Urethane Choices: Throughout the industry, the urethane binder that encapsulates the granules is produced in two forms: aromatic (our Super-7 system with a 7-year warranty) and aliphatic (our Extreme-10 system with a 10-year warranty). It is not required to use aliphatic binder, but from an aesthetic standpoint it is particularly advisable to consider its use with colors such as blue, teal, purple, pearl, eggshell and grays because aromatic binder "yellows" slightly upon exposure to ultraviolet rays. Most of this thin layer of urethane wears off with foot traffic and weathering typically within two to six months. This characteristic applies industry-wide. Extreme-10 (using aliphatic urethane) comes with added cost, but added benefits, too. Upgraded ingredients in the formulation lead to superior performance throughout the system's life.
Greater resistance to wear and tear from foot traffic and the elements
Outstanding tensile strength
"Clear as water" appearance makes the surface vibrant and the rubber true to color