EverTop™ Pour-in-Place Rubber Flooring & Surfacing
The versatile surface with exceptional shock absorption and footing
Surface America's EverTop™is a one-layer, pour-in-place rubber surfacing system that is mixed and poured on-site and is great for many outdoor and indoor applications. Made of pre- and post-industrial recycled materials, EverTop offers lots of customization options – from endless color combinations to inlaid graphics.
Can be poured in any configuration
EverTop is a seamless surface which eliminates safety issues, and it delivers great footing and shock absorption. It's ideal for recreational trails & jogging tracks, exercise & weight rooms, and other outdoor & indoor sports and recreation purposes.
Industry-leading warranty
When used with aliphatic urethane binder, EverTop comes with a 10-year warranty. When used with aromatic urethane binder, EverTop comes with a 7-year warranty.
Product Data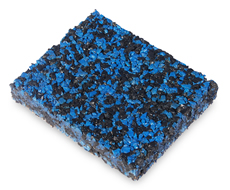 Field-applied in any configuration and dimensions
Wet poured, one layer, troweled on site
Typical thickness range is ½"
Many colors and color combinations Mix Your Own Color Blends
Porous for outdoor use
Base options: asphalt or concrete
Flush, feathered or typical edge detail
Recycled material components sourced from the U.S.
7-year warranty
All materials are made and assembled in the U.S.A.