OUTDOOR SURFACING
The look of natural grass with the durability of synthetic turf
Surface America's SportTurf Cushion resists wear and tear from foot traffic and harsh elements. It's perfect for high-traffic areas where you want a natural look. The non-infilled turf is made of a 50/50 blend of polyethylene and nylon fibers and delivers a surface that remains durable and natural-looking year after year.
Easy installation and minimal maintenance
You'll enjoy the benefit of low maintenance costs – just use a simple backpack blower for clean-up.
SportTurf Cushion Supreme is also available and features a heavier product weight than the standard SportTurf Cushion.
Product Data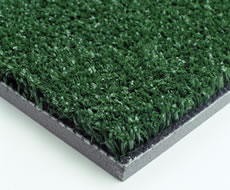 Product: 50/50 combination of straight polyethylene fiber and texturized nylon fiber adhered to 5 mm foam pad; non-infilled
Product: Non-infilled
Pile Weight: 40 oz/sy (8-year fade warranty)
Face Yarn Type: Blended polyethylene & nylon, eight-ply
Yarn Size: 9,440 denier (5,040 denier for polyethylene and 4,400/8 for nylon)
Pile Height: 24/32 (+/- 1/8")
Construction: Tufted broadloom
Tufting Gauge: ¼"
Primary Backing: Dual polypropylene
Secondary Backing: Urethane pre-coat with 5 mm foam
Seams: Adhered or Velcro
Finished Roll Width: 12' & 15′
Finished Roll Length: Up to 120'
Base options: concrete or asphalt
Adhesive (Outdoors): System must be fully adhered to concrete or asphalt
All materials are made and assembled in the U.S.A.