Performance UltraTile® Play - Rubber Playground Tile
The world's toughest wear layer on a playground safety tile.
Performance UltraTile® Play is specifically designed to reduce the risk of serious injury associated with falls from playground equipment. It features a proprietary manufacturing process where the 3 mm patented, pre-manufactured top wear layer – that is significantly higher in density than other tiles – is bonded to the resilient underlayment made of 100% post-consumer recycled SBR (Styrene Butadiene Rubber) and polyurethane. The result is unmatched durability, and its expected life is more than 100% longer than other rubber playground tiles.
Performance UltraTile Play is ideal for a wide range of play applications like ground-level playgrounds, rooftop play areas, patio play areas, daycare and after-school activity areas, fast-food restaurant play areas and shopping mall play areas.
Product Data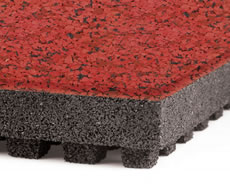 24″ x 24″ x 2-1/2″
For 2-1/2" Tile: Use 24" x 24" ADA Access Ramp & 24" x 6" Transition Piece for a 30" run
For Tile & Polyfoam Panel System: Use 19.75" x 48" ADA Access Ramp & 19.75" x 12" Transition Piece for a 60" run, and Left & Right Side Reducers
Use 8" x 8" Quad Blok Connector when installing tiles to tighten joints and reduce adhesive use (must be used for tile & polyfoam system)
Many standard colors (color combinations and designs available)
Fully-adhered plus side-to-side bonding, or side-to-side bonding only
Porous
Indoor and outdoor use
Base Options: concrete, asphalt, crushed stone
IPEMA certified: meets 5' critical fall height per ASTM F-1292
For 6′, 8′ or 10′ critical fall height, install 39-1/16" x 90-9/16" x 2-1/4" Ecore Polyfoam panels under tiles
ADA compliant per ASTM F-1951 for playground surface accessibility
10-Year Warranty for tiles, 8-Year Warranty for Polyfoam Panels
All materials are made and assembled in the U.S.A.
Colors
Color(s) may vary slightly from samples shown.
Accessory pieces available only in Midnight.