The Importance of Doing Business with an IPEMA Certified Company
When it comes to children and play, safety is everything. At Surface America, we take that very seriously and are committed to offering products like our PlayBound™ Poured-in-Place surfacing system, which is the most-used safety playground surface in the industry. To further support our commitment to safety, we remain in good standing year in and year out with IPEMA (International Play Equipment Manufacturers Association) to ensure that we meet the most stringent safety standards in the industry through this highly recognized, industry endorsed certification program.
IPEMA's mission is "to promote play, encourage safety, and provide certification programs for playground environments." In order to help promote and encourage public safety, IPEMA provides rigorous testing and a certification program for playground equipment and surfacing manufacturers to validate that a product meets or exceeds specific standards. For playground surfacing, this testing certifies that the product meets or exceeds ASTM F – 1292 — a standard that ensures that if a child falls from the highest point of the equipment, the playground surfacing has the necessary shock attenuation to prevent major head trauma and death.
When a company is IPEMA-certified, you can be sure that their products are safe because of the extensive inspections that are conducted. For example: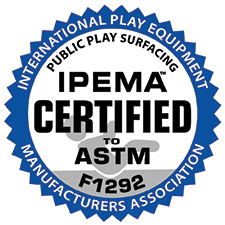 IPEMA conducts a yearly office inspection to ensure:

The company has conducted all the latest independent tests on products.
The company has the necessary and proper insurance.
The company properly tracks and traces all raw materials.
The company has a warranty procedure.

IPEMA conducts site inspections and testing on a sampling of projects.
IPEMA conducts site inspection and testing of any new crews and installation team members.
When planning a new playground project, it's important to research the various surfacing and playground equipment companies. If safety is a priority — and it certainly should be — make sure that all of your suppliers are properly certified. When you choose an IPEMA-certified surfacing supply & installation company, you can rest assured that you are getting a qualified company who has passed all of the necessary testing and inspections, which ultimately reduces your liability.
At Surface America, our IPEMA-certified poured, turf, and tile products are best-in-class with proven success in providing quality and safety.
Back to Articles & Projects »