The 4 Main Benefits of PlayBound™ TurfTop™ for Playgrounds
In today's market, there are many options available for playground surfacing — mulch, synthetic wood chips, rubber mulch, sand, pea gravel, poured-in-place systems, rubber tiles, and synthetic turf systems are the most common. When evaluating these different options, there are a lot of factors to consider — safety, consistency, maintenance, design and, appearance are the most important.
At Surface America, we have all the options that meet the perfect solution criteria, including PlayBound™ TurfTop™. It's hard to argue against the many benefits of using a turf system for playgrounds. In this blog, we highlight the 4 main benefits of PlayBound™ TurfTop™ for playground applications.
#1: Safety
Safety should be your #1 priority when researching a surfacing material for a playground. By choosing our TurfTop system, you can be sure that you're making a safe choice. The resilient basemat provides excellent shock absorption and meets 4' to 10' critical fall heights, per ASTM F-1292. The system also allows for consistent safety throughout the playground since it doesn't move in high foot traffic areas (like under slides and swings). Wheelchairs can maneuver over the turf easily, making it ADA-compliant per ASTM F-1951 playground surface accessibility. And it's always where you need it – under and around the playground equipment – when you need it – that instant when a child falls and needs resilience to soften the blow.
#2: Beautiful Year-Round Toughness
Unlike many lesser options, you can achieve the look of a perfectly-groomed surface year-round with synthetic turf! Plus, TurfTop's world-class toughness resists wear and tear, giving it a long-expected life that will look consistently beautiful no matter the level of use.
#3: Excellent Drainage
When the rain is over, kids want to play! Other surfaces make it difficult for kids to play. TurfTop allows a free flow of water, enabling the playground to be used immediately after a heavy rain. The porous system allows water droplets to run vertically through all 3 levels of the system, so there are no pools of standing water in uneven surfaces.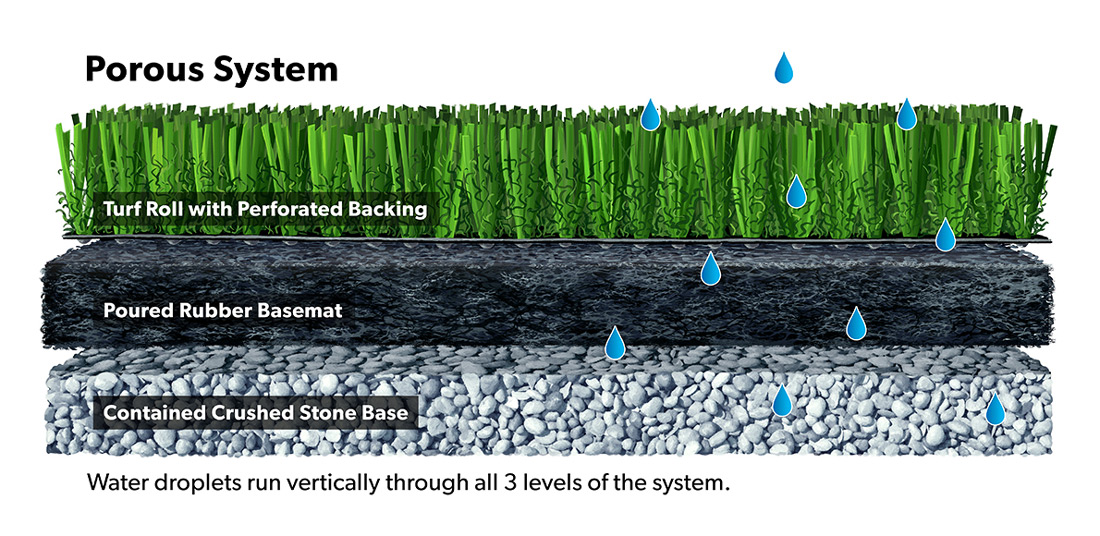 #4: No Maintenance
With turf, you can have the look of beautiful, natural grass with no maintenance — which is so necessary and time consuming with mulch, synthetic wood chips, rubber mulch, sand, and pea gravel.
Still not sure if our PlayBound TurfTop system is right for your next playground project? No worries, we have other playground surfacing options with just as many benefits! Or feel free to contact us to discuss your project and we can help you come up with the right solution.
Back to Articles & Projects »