Surface America builds a kid-friendly playground for waterfront attractions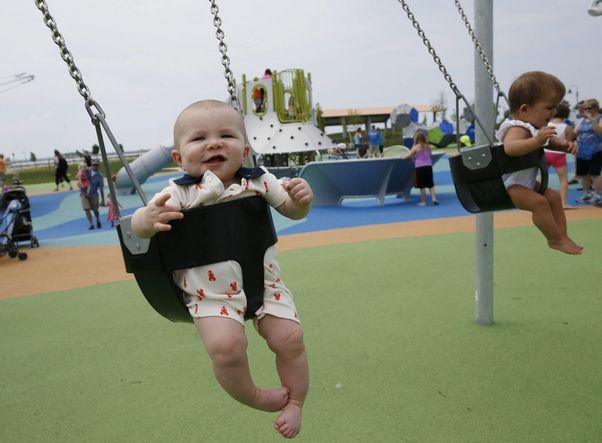 By Mark Sommer – Buffalo News
Read Article
The wavy patterns of orange, lime green and dark blue on the spongy surface of a nautically themed playground are the first indicators the new playground is unlike any other in Buffalo.
But there are other indications, too. Like the large cubes, a slide and climbing apparatus, a large tire for kids to push.
"This is what play should be like – running, jumping and climbing while developing gross motor skills and creativity," said Jennifer Stringfellow of the Town of Tonawanda.
She was at the playground on the Outer Harbor with her daughter Audrey, 7.
As if to prove her point, six kids in a frenzy of energy pushed the tilted tire while three girls stood on it, trying to maintain their balance.
"It's a nontraditional, modern play space," Heather Chick of Buffalo said. "You see playgrounds like this in Pittsburgh and Cleveland, and we finally have one here. It's great to see kids being kids."
The playground is in the newly created Buffalo Harbor State Park that includes Gallagher Beach, across the road from Tifft Nature Preserve. The site was also planned with parents in mind. There are three stone sitting areas with sails overhead for shade. Two nearby pavilions for outdoor eating and new bathrooms were also installed.
"I'm very impressed," said Alyssa Hunt of Kenmore, who was with a large contingent of students from Elmwood Franklin School. "There is a variety of apparatus for all ages to play on, and it's open and colorful."
Her son Ronan, 9, was having a blast.
"It's like 'Tomorrowland,' sort of like the future combined with the past," he said, a little out of breath. He added: "It's a great place to play hide and go seek, and if you fall, you don't get hurt."
The playground's pull was apparent, with more than 50 children on the playground, including students from Our Lady of Victory in Lackawanna, with none wandering away.
"The playground is a great addition to the waterfront," said Andy Burnett, with wife, Cyndi, and son, Noah. "I really like this floor and the sponginess of it. It also gives me a sense of confidence that they built the playground to a higher standard. I wonder if it gives the children more confidence to be adventurous?"
Jason Luna of Lake View, with Jason Jr., said he liked the location of the new playground. "It's the perfect way to bridge the gap between the Southtowns and the city."
The new playground, developed by the state Office of Parks, Recreation and Historic Preservation, is one of many changes occurring on the Outer Harbor.
Wilkeson Pointe opened in June 2013 and the park has become a popular destination. The Small Boat Harbor's new owner, Safe Harbor Development of Knoxville, Tenn., has promised $10 million in upgrades over the next five years. The Buffalo Lighthouse, long closed to the public, has been reopened. New installations by the Industrial Heritage Committee celebrate Buffalo's history of grain elevators, and the Queen City Bike Ferry began May 22, transporting people between Canalside and the Outer Harbor.
Back to Articles & Projects »