UltraTile
INDOOR FLOORING FOR SPECIALTY APPLICATIONS
Surface America is a MASTER DEALER & INSTALLER of Ecore Athletic products for these Northeast states: NY, PA, NJ, CT, RI, MA, VT, NH, ME, MI, Northern OH.
More
The best noise and shock absorption of any indoor floor
Performance UltraTile from Surface America is extremely durable and designed with a patented "Ultra" layer on a molded base to provide unlimited design options. And because of its superior noise and shock absorption qualities, Performance UltraTile rubber flooring tiles are an ideal choice for indoor applications such as weight rooms and locker rooms.
Other standout product features include simple installation and a patented dowel rod fastening system that enables the tiles to be moved or easily replaced. Performance UltraTile is also slip-resistant when wet or dry, and comes with an impressive 15-year warranty.
Product Detail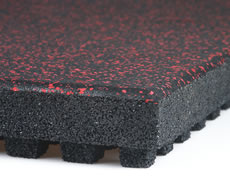 UltraTile's wear layer is the industry's most durable top surface.
Product Data
24" x 24" x 1" thickness
48" x 4" x 1" reducers
Tiles can be placed over existing floor
Easy, fast installation
Patented dowel rod fastening system
Low life cycle costs
Fade and wear-resistant
Easy to clean
Pro-performance: athletes perform better, longer, safer
Sound and shock absorbent
Slip-resistant when wet or dry
Durable
15-year warranty
Colors/Finishes
Color(s) may vary slightly from samples shown.