SportTurf Cushion
INDOOR FLOORING FOR SPECIALTY APPLICATIONS
Natural-looking synthetic turf for multiple indoor uses
Surface America's SportTurf Cushion is an extremely versatile synthetic turf system and a great fit for many indoor applications. The non-infilled turf is made of a 50/50 blend of polyethylene and nylon fibers and delivers a surface that remains durable and natural-looking year after year.
Easy installation and minimal maintenance

When used indoors, SportTurf Cushion is typically installed as a portable velcro system. The absence of infill allows for quicker installation and the system can be rolled up if needed. You'll also enjoy the benefit of low maintenance costs – just use a simple backpack blower for clean-up.
SportTurf Cushion Supreme is also available and features a heavier product weight than the standard SportTurf Cushion.
Product Detail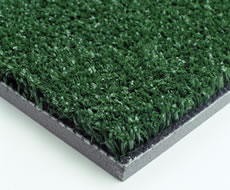 50/50 combination of straight polyethylene fiber and texturized nylon fiber adhered to 5 mm foam pad.
Product Data
Product: Non-infilled
Pile Weight: 40 oz/sy (8-year fade warranty)
Face Yarn Type: Blended polyethylene & nylon, eight-ply
Yarn Size: 9,440 denier (5,040 denier for polyethylene and 4,400/8 for nylon)
Pile Height: 24/32 (+/- 1/8")
Construction: Tufted broadloom
Tufting Gauge: ¼"
Primary Backing: Dual polypropylene
Secondary Backing: Urethane pre-coat with 5 mm foam
Seams: Adhered or Velcro
Finished Roll Width: 12' & 15′
Finished Roll Length: Up to 120'
Base options: concrete or asphalt
Adhesive (Indoors): System can be fully or partially adhered to substrate using STA-1000 synthetic turf adhesive (or approved equal) or attached at seams using heavy-duty double-sided tape approved for such surfacing applications