Performance
INDOOR FLOORING FOR SPECIALTY APPLICATIONS
Surface America is a MASTER DEALER & INSTALLER of Ecore Athletic products for these Northeast states: NY, PA, NJ, CT, RI, MA, VT, NH, ME, MI, Northern OH.
More
Durable performance in a dual-layer rubber flooring roll
Surface America's Performance is an engineered dual-layered, recycled rubber flooring that features an extremely durable top "planting" surface laminated to a resilient "energy" layer. It offers ideal bounce-back characteristics and sound-deadening attributes, and the shock-absorbing surface reduces fatigue and injuries.
Performance is well-suited for all kinds of indoor flooring applications, from exercise rooms to multi-purpose rooms. It can be fully adhered over a concrete or wood subfloor, and Performance's exacting manufacturing process results in a uniform surface with no low spots and seam gaps.
Product Detail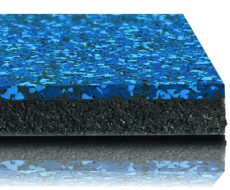 High-quality, post-consumer recycled rubber: a 5 mm, 8 mm or 12 mm underlayment fusion-bonded to a 2.5 mm wear-resistant and water-resistant reprocessed EPDM surface layer.
Product Data
Dual-layer (surface laminated to a base mat) roll
2.5 mm EPDM wear layer over 5 mm or 12 mm resilient rubber underlayment
Available in 48-in wide by custom length rolls
Excellent coefficient of friction
Spike-resistant
Provides excellent force reduction
Fade-resistant, wears well
Easy to clean: E-Cleaner, vacuum or broom and damp mop
Sound and shock absorbent
Slip resistant, wet or dry
DIN tested for ball bounce
Colors/Finishes
Color(s) may vary slightly from samples shown.