EverTop
OUTDOOR SURFACING FOR SPECIALTY APPLICATIONS
The perfect surface for high-traffic areas
Surface America's EverTop™ is a one-layer system that is mixed and poured on site. Consisting of pre- and post-industrial recycled materials, it is applied over asphalt or concrete. Specialty EverTop surfaces provide great footing and shock absorption for high-traffic outdoor areas.
Customize with ease
EverTop rubber surfacing includes an industry-leading percentage of material in its top surface, which greatly extends the life of your surface. And because EverTop's material components are mixed and applied on site, customization is possible. School colors, logos, games or geometric shapes can make the perfect finish to your outdoor surface.
Industry-leading warranty
When used with aliphatic urethane binder, EverTop comes with a 10-year warranty. When used with aromatic urethane binder, EverTop comes with a 7-year warranty.
Product Detail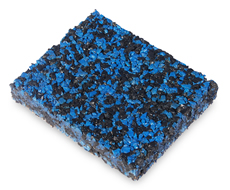 Wet poured, one-layer, troweled-on-site system: EPDM & aliphatic or aromatic urethane.
Product Data
Field-applied in any configuration and dimensions
Wet poured, one layer, troweled on site
Typical thickness range is ½"
Many colors and color combinations Mix Your Own Color Blends
Porous for outdoor use
Base options: asphalt or concrete
Flush, feathered or typical edge detail
Recycled material components sourced from the USA
7-year warranty
Colors / Finishes
Color(s) may vary slightly from samples shown.