Bounce
GYMNASIUM & FIELD HOUSE FLOORING
Surface America is a MASTER DEALER & INSTALLER of Ecore Athletic products for these Northeast states: NY, PA, NJ, CT, RI, MA, VT, NH, ME, MI, Northern OH.
More
A wood floor look with great resiliency and durability
Bounce flooring is manufactured by our parent company, Ecore. It leverages proprietary recycling capabilities and breakthrough fusion-bonding technology to produce an athletic surface with exceptional footing and ball response, ideal shock and sound absorption, anti-fatigue results, and remarkable durability. Its resiliency makes it perfect for gym & field house flooring for sport & non-sport high-traffic applications.
This engineered sports flooring features a wood-look vinyl wear layer with a resilient rubber underlayment. The 6-foot wide rolls are joined by heat-welding the seams to create a seamless wood floor look. Bounce is gym flooring that's engineered for exceptional performance – on basketball courts, volleyball courts, racquetball and squash courts, and a variety of other applications.
Product Detail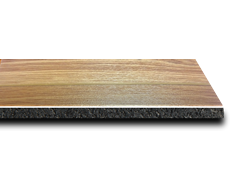 Bounce is a 2 mm vinyl wear layer fusion-bonded to 5 mm rubber underlayment roll good.
Product Data
Resilient sheet vinyl with rubber back
2 mm surface wear layer with a fusion-bonded 5 mm rubber underlayment
Rubber underlayment is made from 97% post-consumer recycled rubber
Meets and exceeds all standards for low VOC emissions
Standard roll 6' wide x 30' long; custom lengths available
Roll seams heat-welding to create a seamless surface
Excellent wear and abrasion resistance
6 finishes and many line paint colors
Non-porous
Indoor use
Manufactured in – using recycled rubber from – the USA
10-Year Warranty
Colors / Finishes
Color(s) may vary slightly from samples shown.