Basic Roll
INDOOR FLOORING FOR SPECIALTY APPLICATIONS
Surface America is a MASTER DEALER & INSTALLER of Ecore Athletic products for these Northeast states: NY, PA, NJ, CT, RI, MA, VT, NH, ME, MI, Northern OH.
More
One of the industry's most versatile and toughest surfaces
Surface America's Basic Roll indoor rubber flooring can hold up to a variety of harsh conditions found in high-traffic indoor areas. It takes the pounding of dumbbells and the weight of any fitness machine – while still looking good. And because Basic Roll is not affected by moisture or extreme temperatures, it can resist the punishing wear of ice skates and ski boots. The highly durable surface can also withstand rolling loads.
Great uniformity and density
Basic Roll specialty flooring is a very durable recycled rubber roll made from pre- and post-consumer recycled materials. It yields perfect uniformity in density and thickness from roll to roll – no soft or hard spots, and no lips at the joints where rolls abut. Basic Roll is also highly resistant to type "B" ultraviolet rays from fluorescent lighting.
Product Detail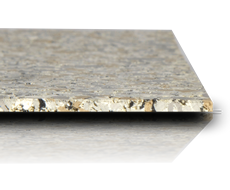 Everlast Roll is made of 100% post-consumer recycled SBR (styrene butadiene rubber) and 100% postindustrial recycled EPDM (ethylene propylene diene monomer) rubber.
Product Data
48-in wide roll in custom lengths (in whole foot increments)
8 mm thickness (6 mm & 9 mm options)
36-in x 36-in x 8 mm Everlast Tile available with minimum quantities
Fade-resistant/wears well
Easy to clean: E-Cleaner, vacuum or broom and damp mop
Fully adhered over a concrete or wood subfloor
Non-porous
Sound and shock absorbent
Slip-resistant wet or dry
Colors / Finishes
Color(s) may vary slightly from samples shown.