INDOOR FLOORING
Surface America is a MASTER DEALER & INSTALLER of Ecore Athletic products for these Northeast states: NY, PA, NJ, CT, RI, MA, VT, NH, ME, MI, Northern OH.
More
Removable hardwood flooring that delivers exceptional shock & sound absorption
Surface America's Actiflex system is a versatile and portable floor that features a hardwood surface on top of a shock absorption foam layer. The floor sections easily, quickly, and securely snap and lock into place and can be installed on an even and self-supporting subfloor or existing floor. Actiflex doesn't require special tools or glue, so it can be temporarily dismantled and reinstalled as needed.
Portable performance with lots of versatility
Actiflex is ideal gym and indoor sports flooring for basketball courts, volleyball courts, racquetball and squash courts, and a variety of other indoor multi-use applications. It even withstands the weight of a heavy grandstand. Its patented foam understructure can only be compressed to a maximum of 50%, making overloading of the floor virtually impossible.
Product Data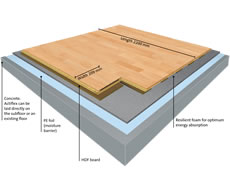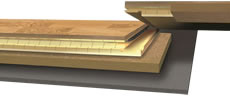 Actiflex sections are installed on top of a shock-absorbing foam layer. When pressing the board down into position, the flexible profile locks into place in a single movement with a positive click.
3-layer, engineered system with click action to lock into place
Temporary/removable floor system
Hard wear layer and safe traction coating
Base options include asphalt or concrete
Excellent wear and abrasion resistance
4 hardwood finishes and 8 line paint colors
Non-porous
Indoor use
5-Year Warranty
Colors
Color(s) may vary slightly from samples shown.