ActiFlex
WATER PLAY SURFACING
Cost-effective, removable hardwood sports flooring
Actiflex flooring is a hardwood surface on top of a shock absorption foam layer. The floor sections lock into place easily and securely. It can be installed on an even and self-supporting subfloor or an existing floor. It can be quickly and easily be dismantled temporarily and reinstalled. No special tools or glue are necessary when laying the sections.
Actiflex is ideal gym and indoor sports flooring for basketball courts, volleyball courts, racquetball and squash courts, and a variety of other applications.
Product Detail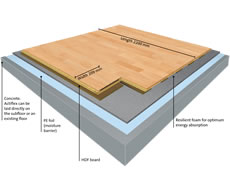 Actiflex sections are installed on top of a shock absorption foam.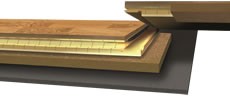 When pressing the board down into position, the flexible profile locks into place in a single movement with a positive click.
Product Data
3-layer, engineered system with click action to lock into place
Temporary/removable floor system
Hard wear layer and safe traction coating
Base options include asphalt or concrete
Excellent wear and abrasion resistance
4 hardwood finishes and 8 line paint colors
Non-porous
Indoor use
5-Year Warranty
Colors / Finishes
Color(s) may vary slightly from samples shown.
Finished Hardwood Options
Standard Line Paint Colors