A High-Performance Pool Deck at Aria Resort and Casino in Las Vegas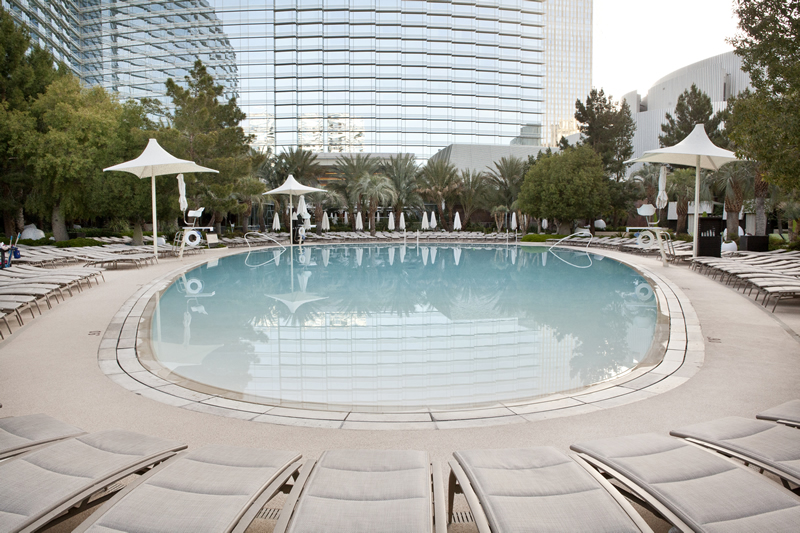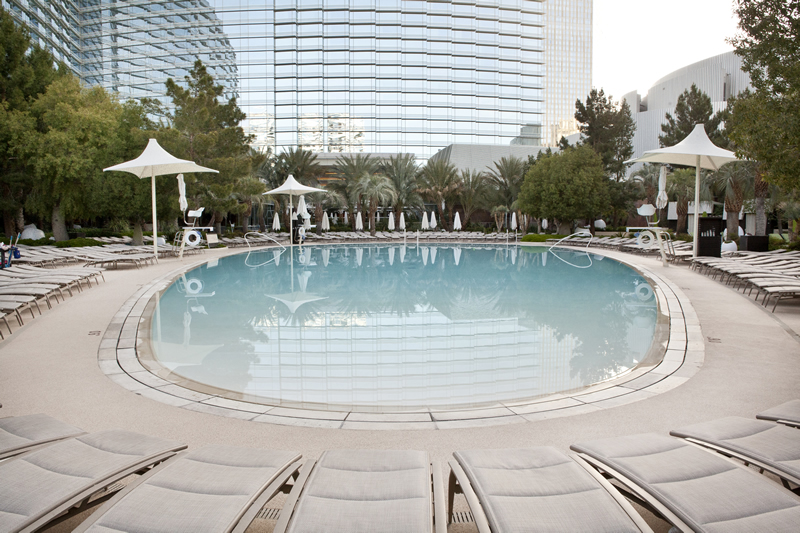 By Dave Ramont – Recreation Management
Arias are focal points in operas, and the Aria Resort and Casino received its name due to its placement as the central feature of the CityCenter complex on the Las Vegas strip. The Aria consists of two curved glass and steel high-rise towers—61 and 51 stories—adjoined at the center. There are 4,004 guest rooms and suites, 16 restaurants, 10 bars and nightclubs, and a salon and spa. There's also a 1,800-seat theater and a three-story convention center. A portion of the suites are referred to as Sky Suites, a Forbes Five-Star hotel, and are categorized separately since they are accessed via a private entrance and elevator.
The casino has 150,000 square feet of gaming space—which includes slots, poker, table games, and a race and sports book. And while many casino designs typically omit natural light, the Aria has exterior windows along the edges of the casino floor and skylights in the ceiling of the high-limit gaming area.
The incorporation of technology for the reduction of energy consumption was a major factor in the design of the hotel. It's the largest hotel in the world to have earned LEED Gold certification, due in part to its smart rooms, which automatically turn off unused lights and electronics, adjust curtains, and regulate the temperature when a guest enters or leaves a room. Popular Mechanics described the Aria as possibly "the most technologically advanced hotel ever built."
The Aria boasts three ellipse-shaped swimming pools for beating the Las Vegas heat. The 17,000-square-meter pool deck features tropical landscaping, a security kiosk, retail shop, lounge chairs and the Pool Bar. Tucked near the edge of the Pools at Aria is a separate outdoor pool area called the Liquid Pool Lounge, described as an "adults-only playground."
The Sky Pool—an upscale exclusive pool—was designed to be a private retreat for Sky Suites guests. It features a private guest entrance, complimentary refreshments, and luxurious amenities, including chilled towels, daybeds, and poolside back and foot massages.
There are three outdoor hot tubs and, for those seeking extra privacy, 34 private cabanas available to rent. Cabana amenities include a flat-screen TV, fridge, Wi-Fi, iPod dock and a personal cabana host available to assist you.
Recently, the hotel needed to replace one of its pool deck areas, and chose to install a relatively new, high-performance surfacing solution called AquaFlex, which uses an advanced bond-in-place technology where millions of pebbles bond together chemically to create a seamless surface. Because it's porous, it breathes and allows moisture to evaporate to prevent bubbling. Plus, it's more durable, safer and much more forgiving than hard, abrasive concrete surfaces, and can be installed with an additional shock-absorbing cushion layer to minimize injuries from falls.
Jim Dobmeier, president of Surface America, which sell the AquaFlex product and installation service, described how different colored aliphatic pebbles are mixed into a variety of color combinations and themes. The pebbles are then mixed with aliphatic binder and troweled in place to form aesthetically pleasing surfaces. He said the most common uses for the product are waterparks and splash pads, pool and spa surrounds, and locker rooms.
The new pool deck surface at the Aria was installed by Pebble Stone Coatings of Las Vegas. Pebble Stone President Jim Brendel explained how the Aria originally had a more rigid surface that had cracked and bubbled. "They chose AquaFlex for several reasons," he said. "It flexes with the movement of the underlying surface and therefore is more resistant to cracks than other more rigid surfaces. Also, the reduction of slips and falls was a goal of Aria and the anti-slip feature was important to them. They also like the high-end look and cleanability of the product."
He noted that the surface takes at least 24 hours to cure before it can be walked on, so traffic control during installation is really important. Brendel added that the hotel "installed it in one of their pool deck areas and they're considering other locations as well. They've been extremely pleased with the results."
AquaFlex® is a Landscape Structures product provided by Surface America. Since 1993, Surface America has completed thousands of projects and installed more than 30 million square feet of recreational and athletic surfacing and flooring throughout the U.S. Customers have come to know Surface America for its project management expertise, superior installation craftsmanship and proven surfacing & flooring surfaces.
Back to Articles & Projects »