FITNESS FLOORING
Surface America is a MASTER DEALER & INSTALLER of Ecore Athletic products for these Northeast states: NY, PA, NJ, CT, RI, MA, VT, NH, ME, MI, Northern OH.
More
Designed for areas where extreme durability and ultimate sound and shock absorption are required.
Performance dBTile fitness flooring from Surface America eliminates the shock and sound resulting from large weights being thrown onto its surface by absorbing it. The footed design isolates low frequency while providing a spring-like response to impact. In strength and fitness environments, it will sustain the repeated abuse of light-and-all-the-way-up-to extreme weights without dimpling, tearing or fading. Performance dBTile is slip resistant and not affected by moisture or extreme temperature changes. It's highly resistant to type "B" ultraviolet rays from fluorescent lighting.
It features a proprietary manufacturing process where the 3 mm patented, pre-manufactured top wear layer – that is significantly higher in density than other tiles – is bonded to the resilient underlayment made of 100% post-consumer recycled SBR (Styrene Butadiene Rubber) and polyurethane. The result is unmatched durability, and its expected life is more than 100% longer than other rubber tiles.
Loose-laid or glued-down.
The 24-square-inch molded tiles can be loose-laid into Ecore's Quad Blok interlocking system for holding them in place for easy-down & easy-up installation.
Product Data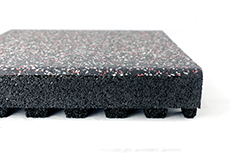 Highly-durable top wear layer provides force distribution. Resilient underlayment has special footed formula to stand up to heavy weight impacts and promotes spring-like response. 2.5" height for low frequency isolation.
SmashTile
24″ x 24″ x 2-1/2″
Made from 100% recycled SBR tire rubber, and EPDM granules bound in both underlayment and wear surfaces with a wear and weather resistant polyurethane
Many standard colors
All materials are made and assembled in the U.S.A.
Quad Blok Connectors
8″ x 8″ x 11/16″
Post-consumer recycled rubber granules encapsulated in a wear and water-resistant elastomeric network
Black color
All materials are made and assembled in the U.S.A.
Colors
Color(s) may vary slightly from samples shown.