Boflex Hardwood Sports Floor
GYMNASIUM & FIELD HOUSE FLOORING
Surface America is a MASTER DEALER & INSTALLER of Ecore Athletic products for these Northeast states: NY, PA, NJ, CT, RI, MA, VT, NH, ME, MI, Northern OH.
More
Progressive resilience for safety, performance and comfort
Boflex flooring is designed to be as well suited for recreational activities and athletic competitions as it is for withstanding the weight of a heavy grandstand. In fact, the foam understructure can only be compressed to a maximum of 50%, making overloading of the floor virtually impossible. It's constructed of a real wood top layer, a balancing softwood middle layer cross-angled for dimensional stability, a bottom layer and a patented built-in foam bottom structure that delivers exceptional shock absorption and sound absorption. Featuring a tongue & groove design, adhesive is placed in the groove portion for a permanent installation.
The classic hardwood floor look with so much more resilience
Boflex indoor wood flooring is engineered to accommodate the high demand for quality hardwood gym flooring for basketball courts, volleyball courts, racquetball and squash courts, and many other applications.
Product Detail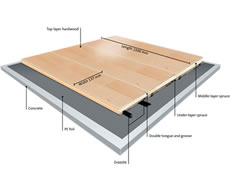 Boflex's 1-1/8" profile includes a 3/16" prefinished hardwood top layer, diagonal layer of wood for added stability, and a patented and fully integrated dual foam channel system recessed into the backside of a hardwood base which eliminates the chance of the foam being damaged or crushed.
Product Data
3-layer, tongue & groove engineered system
Hard wear layer and safe traction coating
Base options include asphalt or concrete
Excellent wear and abrasion resistance
4 hardwood finishes and 8 line paint colors
Non-porous
Indoor use
5-Year Warranty
Colors / Finishes
Color(s) may vary slightly from samples shown.
Finished Hardwood Options
Standard Line Paint Colors