GYMNASIUM & FIELD HOUSE FLOORING
Exceptional footing, true ball response and ideal shock absorption.
ElastoFloor™ Roll-Pour system is engineered specifically for use as an indoor basketball court, volleyball court, tennis court, racquetball or squash court, or as a multi-sport court, indoor track or any other type of sport and recreational usage. The surface has excellent slip, abrasion and wear resistance. Its hardness maintains true ball response while the shock- and sound-absorbing basemat enhances performance and reduces fatigue.
Great multisport, multipurpose flooring.
The indoor rubber gym flooring is so durable that non-sport events like meetings, church services and dances can be held on the surface. The seamless surface is three layers of poured urethane over a pre-fabricated and fully adhered rubber basemat that is made from recycled rubber. Add a custom graphic, logo or mascot design to the surface to complement a school or theme.
Product Data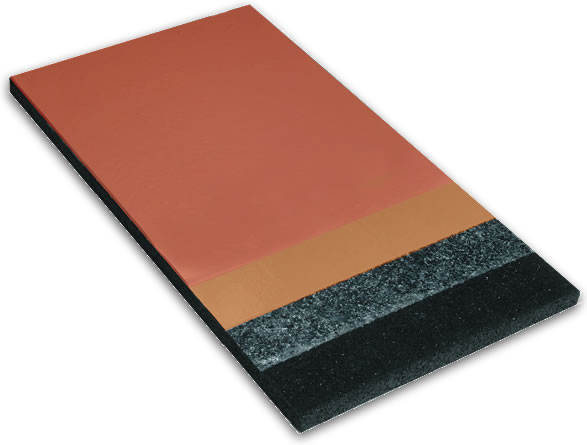 ElastoFloor Roll-Pour's three urethane layers (seal, resin, finish) over a resilient rubber basemat.
Pre-manufactured resilient rubber basemat rolled out, cut and glued in place
Three layers of self-leveling liquid polyurethane poured & squeegee-applied
Field-applied in any configuration and dimensions for a seamless surface
Typically installed over concrete or indoor flooring
Mercury and lead free (no heavy metals)
Texture Right finish for desired sliding properties
Excellent wear and abrasion resistance
Shore A hardness for ideal ball response and distribution of point and rolling loads over maximum area
12 standard colors and 6 standard line paints
Non-porous
Indoor use
Manufactured in – using recycled rubber from – the USA
Industry's longest & most comprehensive warranty
Colors / Finishes
Color(s) may vary slightly from samples shown.
Standard Solid Colors
Standard Line Paint Colors