Boflex Hardwood Sports Floor
FITNESS FLOORING
Surface America is a MASTER DEALER & INSTALLER of Ecore Athletic products for these Northeast states: NY, PA, NJ, CT, RI, MA, VT, NH, ME, MI, Northern OH.
More
Exceptional resilience in a classic hardwood floor
Boflex from Surface America is extremely versatile, hardwood fitness and exercise flooring. It's engineered to stand up to the high demands of many fitness applications – from courts to high-traffic, multi-purpose areas. Boflex flooring is constructed of a real wood top layer, a balancing softwood middle layer cross-angled for dimensional stability, a bottom layer and a patented built-in foam bottom structure that delivers exceptional shock & sound absorption.
Versatility beyond fitness
Boflex wood fitness flooring features a tongue & groove design, and adhesive is placed in the groove portion for a permanent installation. It's as well suited for fitness competitions and recreational activities as it is for withstanding the weight of a heavy grandstand. Boflex's foam understructure can only be compressed to a maximum of 50%, making overloading of the floor virtually impossible.
Product Detail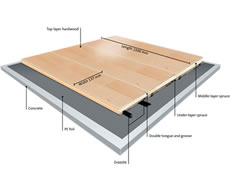 Boflex's 1-1/8" profile includes a 3/16" prefinished hardwood top layer, diagonal layer of wood for added stability, and a patented and fully integrated dual foam channel system recessed into the backside of a hardwood base which eliminates the chance of the foam being damaged or crushed.
Product Data
3-layer, tongue & groove engineered system
Hard wear layer and safe traction coating
Base options include asphalt or concrete
Excellent wear and abrasion resistance
4 hardwood finishes and 8 line paint colors
Non-porous
Indoor use
5-Year Warranty
Colors / Finishes
Color(s) may vary slightly from samples shown.
Finished Hardwood Options
Standard Line Paint Colors